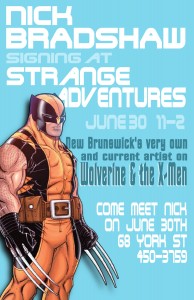 Wolverine & The X-Men artist, Nick Bradshaw, will be at Fredericton's Strange Adventures on Saturday, June 30th! Drop by and say hi and get your comics signed! We'll have lots of extra copies of Nick's work as well as some cool posters and prints!
Nick has worked on many different series over the years including Army of Darkness, Astonishing X-men and Danger Girl as well as being a very popular cover artist!
***************************
2012 is Strange Adventures' 20th Anniversary and we'll be having spotlight deals on various items throughout the year so be sure to follow us on twitter or join our Facebook group or just drop in to your local Strange Adventures and ask about any specials we have going on! (as an example, Justice League and Justice Society trade paperbacks are 20% off at the Halifax store!)
***************************
 The CW network has a preview of the upcoming ARROW
television series based on DC's GREEN ARROW. Check it out here:
http://www.youtube.com/watch?v=xaq6S_Hcwn4&feature=player_embedded
The clip introduces Katie Cassidy, who will play Dinah Laurel
Lance (aka Black Canary), in the new series.
CW's Arrow will debut in October in a prime Wednesday
night spot as a lead-in the Supernatural. Arrow will air at
8pm Eastern / 9pm Atlantic.
***************************
Minutemen #1 is out now and it's very good – would make a fine Father's Day gift since your Dad may have read Watchmen when it originally came out in 1986! You could even get him a subscription at your friendly neighbourhood comic book store!