Gift Registry Info
Store Hours & FAQ | Gift Registry Info | Free Comic Book Day! | Selling Your Stuff To Us | Subscription Service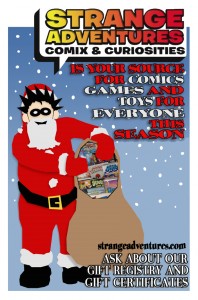 Help your family and friends get you something you really want for Xmas! Fill out one of our handy gift registry cards so the kind folks who have you in their thoughts this holiday season can find you something you're really going to enjoy.
…and did you know that Santa drops by just before Christmas? He fills a few wishes himself!
Drop by your local Strange Adventures and fill out a gift registry card so your friends and family – and a certain gentleman who hails from the North Pole – can get you exactly what you're wishing for!
You can also e-mail us your wish list! Send it to your friendly neighbourhood Strange Adventures in Fredericton, Dartmouth or Halifax, along with your name and phone number:
fredericton@strangeadventures.com
dartmouth@strangeadventures.com
halifax@strangeadventures.com