Selling Your Stuff To Us
Store Hours & FAQ | Gift Registry Info | Free Comic Book Day! | Selling Your Stuff To Us | Subscription Service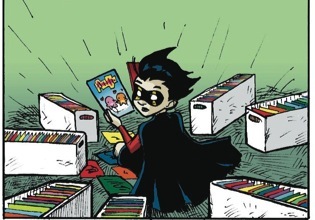 What should I do if I want to sell a collection of toys, comics, books, etc.?
Strange Adventures is always happy to look at collections you are interested in selling. We are always on the hunt for comics, graphic novels, action figures, and various toys. We also do estate appraisals, and other large-scale appraisals for which you need us to come to you, for a minimal cost.
If you are interested in selling a collection, please bring it in to the Halifax Strange Adventures location on a Monday, or you may be able to make an appointment on another day by contacting us via e-mail (shop@strangeadventures.com). Our buyer will be happy to look over what you have to sell.
If the Fredericton store is more convenient for you, call ahead to make an appointment (506-450-3759).
Some important things to remember about selling collections to us:
• We do not give appraisals over the phone. You can call to set up a time to bring materials in for us to see, but please do not call expecting us to offer you a price for what you are selling. You wouldn't buy a car without seeing it first, and the same goes for us with comics and other merchandise. The condition of what you are selling, our stock at the time, and many other factors go into the prices we are willing to offer for collections, so we have to actually see what you want to sell before we decide if we wish to purchase it.
• Try to have your collection organized before bringing it in. If your comic issues are in numerical order, and if each of your toys is packaged with its accessories, it will be much easier for us to quickly look through what you have brought in.
• Consider whether you would rather have cash or store credit in return for what you wish to sell; usually, we will give more in credit than in cash.