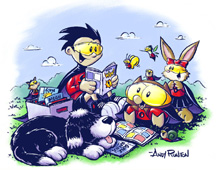 Free Comic Book Day is Saturday, May 5th! If you'd like to volunteer to help out,
we're having a volunteer meeting at the Halifax store on Monday, April 29th between 5 and 6pm. Drop by anytime after 5.
We need folks to help move boxes, unpack, set up tables, monitor the tables, help the photographer,
talk to folks at the entry point, help the games table and give out prizes, and GIVE OUT THOUSANDS
OF COMIC BOOKS!