The fine folks at Sonic Concerts are bringing back Kevin Smith for another show at the Spatz Theatre; and he's not coming alone!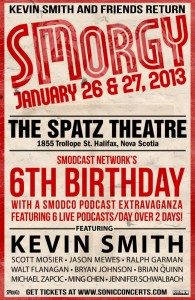 A two day event! Sonic Concerts have given us 3 pairs of tickets to the event and you can win a pair!
Info is on our facebook group page, right here:
[from the facebook thread]:
okay, so the event is on the weekend of Jan. 26th/27th and folks need time to plan, so we should give out the tickets a few days beforehand. Say, the 23rd.

So here's how we're going to do it. Share the photo at the top of this thread – the SMORGY poster – spread it far and wide, and we'll know about it. Add your comment here to let us know, too. Do something to promote Jay & Silent Bob, post a photo with a link here with you dressed as one of the Kevin Smith characters. 

Pose with your favourite Kevin Smith DVDs or comic books and post the pic here. Start a frenzy! Or if you're not the frenzy type, tell us why you want to see the SMORGY and we'll enter all of y'all into a random draw for the tickets. We have three pairs to give away to three lucky folks who can then take a pal to the SMORGY!

We'll announce the winners here on Jan. 22nd around lunchtime!
Essentially, help spread the word, and show us how you're doing it!
for more info on the show or to get tickets, check out Sonic Concerts: