Animaritime is coming up soon – June 28-30 in Fredericton, NB
at the spiffy new convention centre in lovely downtown Fredericton!
We'll be set up with lots of manga, graphic novels, anime toys and more!
Yes, we'll be bringing along Kate Leth, too!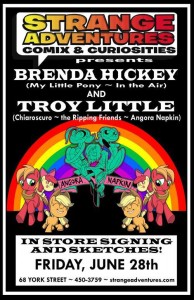 AND we have a signing with Troy Little and Brenda Hickey coming up on Friday,
June 28th!
Brenda Hickey, artist on the My Little Pony: Applejack mini-series, and Troy Little, of Chiaroscuro and Angora Napkin fame! Troy has also just been announced as the writer and artist on IDW's upcoming Powerpuff Girls series!
More info on Animaritime can be found at their website http://animaritime.org