available on Wednesday, October 2nd, the first issue of Death Sentence with an exclusive cover available only at Strange Adventures!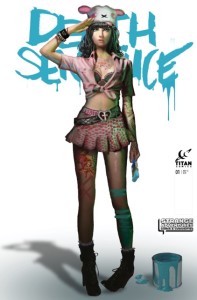 DEATH SENTENCE #1 Of(6)
Written by Monty Nero with artwork by Michael Dowling
What would you do with superpowers and 6 months to live?…that's the dilemma facing three people who've contracted the G+ Virus, a terrifying new STD. What can graphic designer Verity, failing indie guitarist Weasel and roguish media personality Monty do in the time they have left? Fade away – or go out in a blaze of glory? By turns funny, dark, sad and spectacular, Death Sentence is an emotional thrillride through celebrity, loss, passion and creativity. It's the jaw-dropping next stage in superpowered storytelling! Packed with unforgettable shocks, quotable dialogue and the character finds of a generation, this is an unmissable debut by two striking and confident new voices!
Death Sentence comic book trailer
If you're not lucky enough to live near a Strange Adventures and would like to order a copy, send paypal to "calum@strangeadventures.com". $3.99 plus tax in-store.
Mail order copies are $5 each tax included, postage is extra.
1-4 copies within Canada – add $4 postage
1-4 copies to  continental USA – add $12 postage
1-4 copies to the UK – add $16 postage
1-4 copies to the rest of the world – add $24 postage
Please ensure your address is confirmed through Paypal – we only mail to confirmed addresses!
Tags:
exclusive
,
variant cover