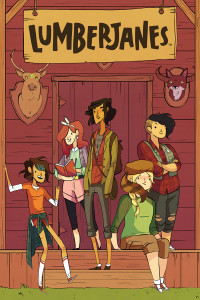 Mal, Molly, April, Ripley, and Jo are five best friends spending the summer at Miss Quinzella Thiskwin Penniquiqul Thistle Crumpet's Camp for Girls Hardcore Lady Types. They're learning to be the best Lumberjanes they can be from their counselor Jen and campmaster Rosie. That means being brave, strong, truthful, compassionate, and whole bunch of other stuff, but mostly, it means "friendship to the max."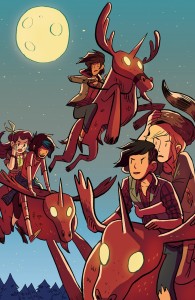 What they weren't expecting is that there's some weird, spooky, stuff happening near the camp including a mysterious Bearwoman appearing near their cabin and a bunch of three-eyed foxes they'll have to fight. These challenges and more will test the young girls' skills and their friendships in ways they could never have imagined.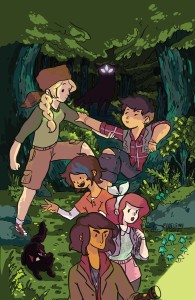 LUMBERJANES is an 8 issue mini-series by Noelle Stevenson (Nimona, ADVENTURE TIME) and newcomer Grace Ellis with art by Brooke Allen (ADVENTURE TIME, BRAVEST WARRIORS).
The first issue is scheduled to be released on April 9th!
Here's the order form from co-writer Noelle Stevenson's tumblr