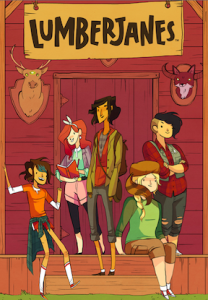 I had the opportunity to read the first issue of
the new Lumberjanes comic book series.
Lumberjanes is an eight issue series starting in
April. Written by Noelle Stevenson (Nimona,
Adventure Time) and newcomer Grace Ellis
with art by Brooke Allen (Adventure Time,
Bravest Warriors), Lumberjanes #1 is a fun
and colourful tale following a groups of
friends at camp looking for mystery and
adventure and finding almost more than they  can handle.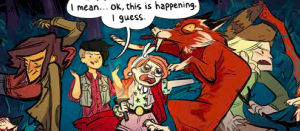 Attacked by magical foxes, teased with a mystical warning, caught by their cabin leader. . .
luckily, the camp boss is an understanding sort…

There's revelations…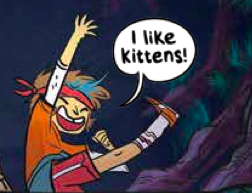 …tension…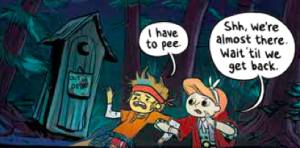 and satisfying conclusions…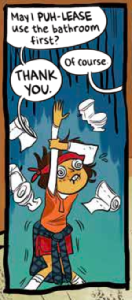 and that's not all! Mysteries abound, we learn the Lumberjanes pledge
and I look forward to the next issue!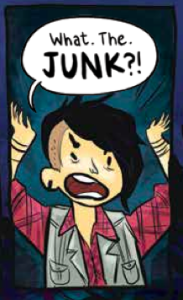 Co-creator Grace Ellis said in an interview with Autostraddle:
"We wanted to do a comic about teenage girls whose friendship is the most important relationship in the story, so we built the premise around that. Sending the characters to a Lumberjanes scout camp was a pretty natural setting for the kind of story we wanted to tell, especially because we wanted the characters to be badasses. One of the first things we came up with was the camp motto, "friendship to the max," which has kind of become the thesis for the series as a whole. The girls aren't anywhere near perfect, but they're doing their best to look out for each other, even when they stumble onto something that's way bigger than they were prepared to handle. Also, I'm super psyched about being able to write an action/adventure mystery about teenage girls? Like, how rad is that?"
The book has been getting a lot of buzz, for example,
Comics Alliance announced the series
i09 picked up the news and ran with it
Autostraddle covered the announcement
Bleeding Cool declared Lumberjanes a book to watch
The Mary Sue talked about Lumberjanes
Comics Alliance interviewed the Lumberjanes team
Comic Bastards interviewed Noelle Stevenson
Fanboy Comics' Previews Party Podcast interviewed the creators
CBR interviewed the creators
Check out Lumberjanes this April at your local Strange Adventures!