We acquired a nice haul of previously-enjoyed Marvel and DC Comics statues this week. Some of these battle-hardened heroes needed a bit of TLC to get back into fighting trim, but as you can see from these pictures, they're none the worse for wear. All they need is a good home–maybe yours? In-store sales only, no shipping–we don't want to risk busting 'em up!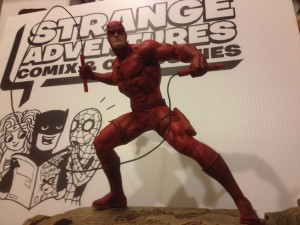 Heads up, True Believers, the Man Without Fear is here! The soon-to-be-Netflix star Daredevil doesn't have a scratch on him so far as we can tell, but we're selling him for only $100 anyway!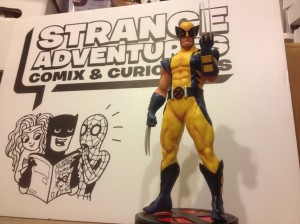 We actually have two of these Wolverine statues on the go right now, sporting his snazzy John Cassaday redesign (as seen in the pages of ASTONISHING X-MEN). One is going for $150, the other one has a tiny scratch on his base so he's only $100! We don't expect neither of 'em to last long at those prices.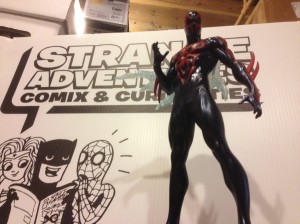 Miguel O'Hara, AKA the Spider-Man of 2099, had a busted web, but we've fixed it and he's all ready to fight crime in a future time. But because of his battle damage, this normally $200-or-more statue is only $75!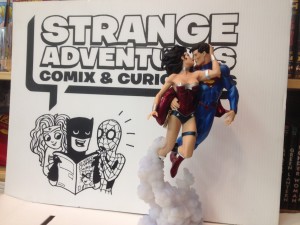 Get a room, you two! This statue of the New 52's power couple had to be re-attached to its base, so it's priced to move at $100!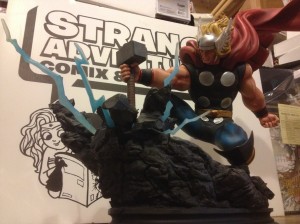 The wing on the ol' Thunder God's helmet had to be glued back on, and as a result this action-packed Thor statue is only $100! Will you let someone else beat you to this crazy deal? I say thee NAY!
Tags:
Astonishing X-men
,
Bowen Designs
,
Daredevil
,
DC
,
DC Direct
,
Kotobukiya
,
Marvel
,
New 52
,
Spider-Man 2099
,
Statues
,
Superman
,
Thor
,
Wolverine
,
Wonder Woman