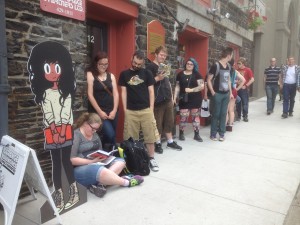 Yesterday Bryan Lee O'Malley dropped by our Halifax location. We were the last stop on his tour to promote his new graphic novel Seconds. A phalanx of fans braved the muggy weather and the spillover crowd from the Buskers Festival to come say hi, take selfies with Mal (and Seconds star Hazel), and get their books signed!
Our friends at Power Promotional Concepts made up some cool tumblers for the event, too!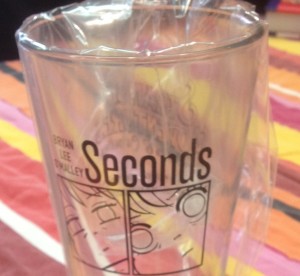 Fans brought Seconds, Lost At Sea, & assorted volumes of Scott Pilgrim to have them signed, and longtime fan (and super-talented comics creator in her own right!) Jordyn Bochon even brought one of Mal's Kupek CDs!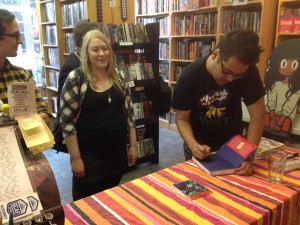 Thanks to Bryan Lee O'Malley and Random House for including us on this tour, and thanks to everyone who showed up!
Tags:
Bryan Lee O'Malley
,
Buskers Festival
,
Random House
,
Scott Pilgrim
,
Seconds