Strange Adventures will be in attendance at the 3rd annual East Coast Comic Expo held in Moncton, New Brunswick! If you'll be there and have any requests for items that we should bring along, shoot us an e-mail (shop@strangeadventures.com)!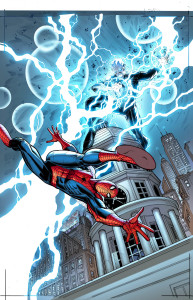 We'll have copies of the spiffy Amazing Spider-man #1 variant cover that was illustrated by ECCE guest artist, Nick Bradshaw! Lots of vintage comics as well as variant covers and some of our exclusive comics to peruse, too!
There will be many comic book creators at the show including Dave Ross, Ken Lashley, J Torres, Faith Erin Hicks, Kathryn Immonen, Stuart Immonen, Sandy Carruthers, and Captain Canuck creator, Richard Comely to name just a few!
For more information on the expo, visit their website:
http://eastcoastcomicexpo.com