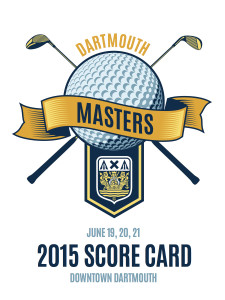 June 19, 20, and 21 in downtown Dartmouth, join in the fun of the first annual Dartmouth Masters golf tournament! A unique 9 hole course at various locations throughout the downtown area.
All ages and skill levels welcome! Bring Dad along for Father's Day!
Drop into any of the participating locations for a scorecard and try your luck at the course! Once you're done the course (no need to do all 9, however many you would like to do is fine), fill out your name, age and contact info on the scorecard and leave it with any of the participating Dartmouth Masters locations. We'll be selecting winners a few days later once we collect all the scorecards and there are some pretty cool prizes!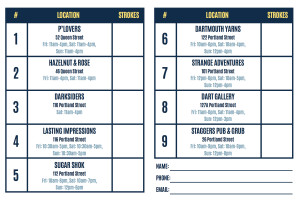 Hours for access to each hole are noted with each location as seen above on the scorecard and below is the back of the scorecard showing the course!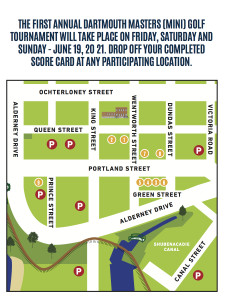 Thanks to the following participants and sponsors:
P'lovers
Hazelnut & Rose
Darksiders
Lasting Impressions
Sugar Shock Candy Boutique
Dartmouth Yarns
Strange Adventures – Dartmouth
Dart Gallery
Staggers Pub
Bodega Boutique
Dartmouth Clothing
Power Promotional Concepts