We have a big comic collection that is being sorted into runs and sets in the Dartmouth shop.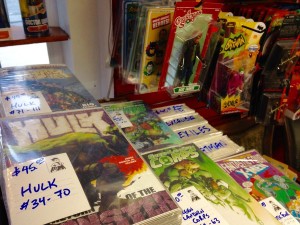 Hulk, Punisher, Batman, Exiles, X-men and dozens more! If you have a character or series you're interested in, send along any requests to dartmouth@strangeadventures.com!
Drop by Wednesday through Friday Noon to 6pm and Saturdays 10am to 5pm. We'll also be open some extra days on the run up to Christmas for your sidekick shopping convenience.