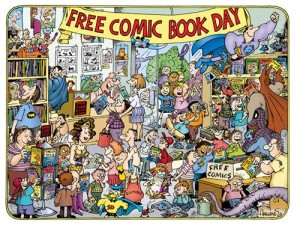 Saturday May 7th is the 15th annual Free Comic Book Day and the Strange Adventures sidekick store is participating! We'll have a bunch of free comics for kids, teens and even some for grown-ups! Drop by on Saturday anytime after 10AM to browse a few!
There's also a bunch of other events going on in Dartmouth that day, so wear comfy shoes and make a day of it!
Hello Dartmouth has info on Open City taking place on Saturday and the Dartmouth Makers have a Spring Pop-up Market at the Parish Hall on Dundas Street in downtown Dartmouth so there's plenty to check out after you get some sweet free comics!
More info on Free Comic Book Day can be found here.