Free Comic Book Day is this Saturday! May 7th!
Halifax will be holding the event on the waterfront side of the Maritime Museum of the Atlantic – same as last year. Starting at 10AM, there will be free comics for kids, teens and grown-ups so bring a friend and the family!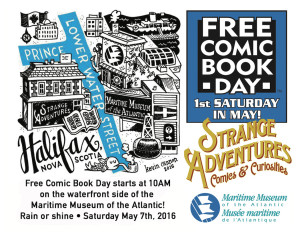 Mister J will be making some of his fabulous balloon creations and you might even see some magic!
We'll also have our amazing Wheel of Doom! $2 a spin and you could win fabulous prizes! 100% goes to the IWK Foundation.
The festivities start at 10AM and run until we're out of comics, usually mid-afternoon.
Hope to see you at Free Comic Book Day on the Halifax waterfront!
More info on Free Comic Book Day can be found here.