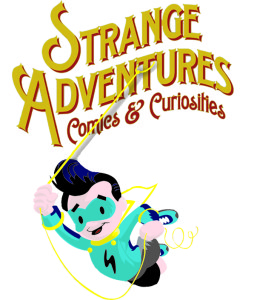 Our facebook page for Strange Adventures – Dartmouth has a couple of photo albums which may be of interest to you, if you're looking for back-issue comic book goodness!
(You don't have to be signed into facebook or a member of facebook to see the photo albums.)
Better as back-issues shows new arrivals into our back-issue comic bins of all kinds; silver age, golden age, modern comics and of all genres.
Out-of-print graphic novels is just that, hardcovers and paperbacks that are no longer available in these editions.
Comic book bundles and sets has photos of packs of comic book mini-series, story arcs, or runs from various series.
The Loonie Bin shows some of the comics in the buck boxes – there are some great comics in there and only a dollar each!
AND our 50% off toy sale continues through September! Come get some!!