ABSOLUTE JUSTICE LEAGUE WORLDS GREATEST SUPERHEROES HC
ADVENTURE TIME #70
ALLEN SON OF HELLCOCK HC
ALTER EGO #149
AMORY WARS GOOD APOLLO #8 (OF 12)
ANGRY BIRDS FLIGHT SCHOOL HC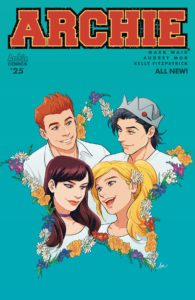 ARCHIE #25
ART OF HARLEY QUINN HC
ASH VS EVIL DEAD ULTIMATE ASH 7-INCH ACTION FIGURE
ASTONISHING X-MEN #5
ATOMIC ROBO SPECTRE OF TOMORROW #1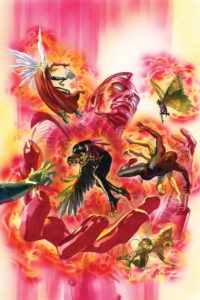 AVENGERS #673
AVENGERS BY BENDIS COMPLETE COLLECTION TP VOL 3
BACK ISSUE #101
BANE CONQUEST #7 (OF 12)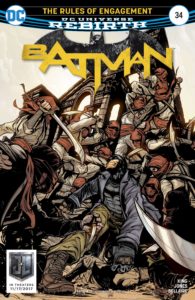 BATMAN #34
BATMAN THE DARK PRINCE CHARMING HC BOOK 1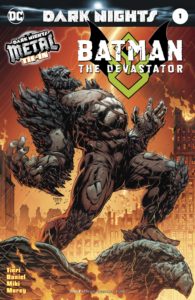 BATMAN THE DEVASTATOR #1 (METAL)
BATMAN THE DEVASTATOR PROMO PINS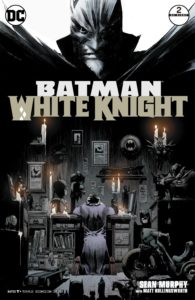 BATMAN WHITE KNIGHT #2 (OF 8)
BERNIE WRIGHTSON ARTIFACT EDITION HC
BETTIE PAGE #4
BLACK BOLT #7
BLACK LIGHTNING COLD DEAD HANDS #1 (OF 6)
BLACK PANTHER BY HUDLIN TP VOL 1 COMPLETE COLLECTION
BLACK TP VOL 1
BLACK WIDOW CREATING THE AVENGING SUPER-SPY HC
BOMBSHELLS UNITED #5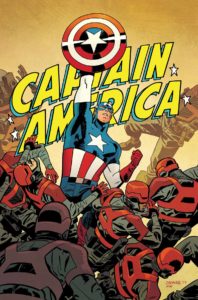 CAPTAIN AMERICA #695
CHARACTER DESIGN QUARTERLY SC #2 VISUAL DEVELOPMENT
CLUE #5
COMPLETE STRANGE GROWTHS 1991-1997
CREEPS #12
CROSSWIND #5
CYBORG #18
DASTARDLY AND MUTTLEY #3 (OF 6)
DC ESSENTIALS GRAPHIC NOVELS 2018
DC GREATEST HITS BOX SET
DCTV LEGENDS OF TOMORROW ATOM ACTION FIGURE
DCTV LEGENDS OF TOMORROW WHITE CANARY ACTION FIGURE
DCTV THE FLASH KID FLASH ACTION FIGURE
DEADMAN #1 (OF 6) GLOW IN THE DARK EDITION
DEADPOOL WORLDS GREATEST TP VOL 10 SECRET EMPIRE
DEATHSTROKE #25
DOCTOR WHO LOST DIMENSION SPECIAL #2
DOG MAN EPIC COLLECTION BOXED SET #1
DUCKTALES #2
ELSEWHERE #4
EXPANSION GN
EXTREMITY #8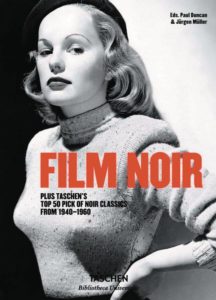 FILM NOIR BIBLIOTHECA HC
FOREVER WAR TP
G FAN #117
GI JOE A REAL AMERICAN HERO #245
GIANT DAYS #32
GRANDVILLE FORCE MAJEURE HC
GRAVEDIGGERS UNION #1
GREEN ARROW #34
GREEN LANTERNS #34
GUARDIANS OF GALAXY #146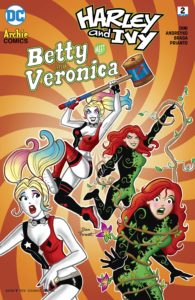 HARLEY & IVY MEET BETTY & VERONICA #2 (OF 6)
HARRY POTTER SER 3 LASER CUT FIG KEYRING 24PC MINI-FIGURES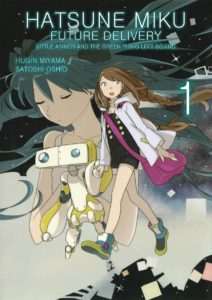 HATSUNE MIKU FUTURE DELIVERY TP 1
ICEMAN #7
IN THIS CORNER OF THE WORLD GN
INHUMANS ONCE FUTURE KINGS #4 (OF 5)
INJUSTICE 2 #13
IRON FIST #74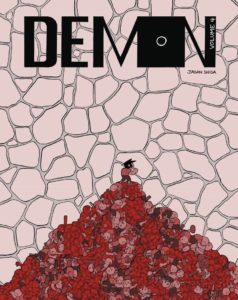 JASON SHIGA DEMON SC GN VOL 4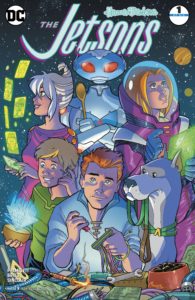 JETSONS #1 (OF 6)
JUSTICE LEAGUE #32 METAL
JUSTICE LEAGUE TP VOL 4 ENDLESS (REBIRTH)
KILL SHAKESPEARE TP VOL 5 PAST IS PROLOGUE JULIET
LAZARETTO #3 (OF 5)
LAZARUS X PLUS 66 #4 (OF 6)
LUCKY LUKE TP VOL 66 PROMISED LAND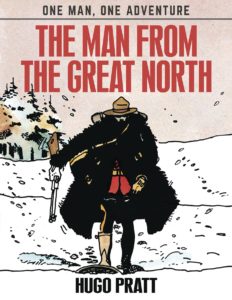 MAN FROM THE GREAT NORTH HC
Written and illustrated by Hugo Pratt. A provocative story whose protagonist is a seemingly wanton murderer driven by a religious obsession with the absolute. Set in Canada around 1920, Jesuit Joe is of French-Canadian and Mohawk origin and is engaged in an obsessive religious search for the absolute, as he moves through the snowy wastelands of the region. He wears the red jacket of the Canadian Mounted Police that he found in a hut-which gives rise to a series of misunderstandings when he is mistaken for a member of the force. His actions highlight his unusual ethical code and his disturbing and complex personality-he kills with terrible ease and shows an unmatched cruelty and ferocity, yet his mood suddenly shifts and he performs unexpected acts of kindness and compassion. All the while, he is tracked by his nemesis, Sergeant Fox, whose mission is to capture Jesuit Joe and bring him to justice. This is the first English language edition of Pratt's 1980 classic, and includes an incomplete second story of Jesuit Joe, plus Pratt's storyboards drawn for the movie version.
MARVELS THOR RAGNAROK ART OF MOVIE SLIPCASE HC
MERCENARY DEFINITIVE HC VOL 1
MONET ITINERANT OF LIGHT HC
MORTAL INSTRUMENTS GN VOL 1
MY LITTLE PONY TREASURY EDITION PONIES OF DARKWATER
NAMWOLF TP VOL 1 HEART OF DARKNESS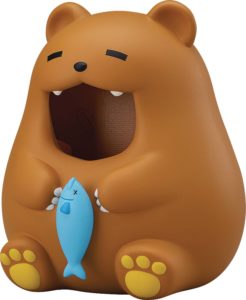 NENDOROID MORE FACE PARTS CASE CUTE PUDGY BEAR
NIGHTWING #32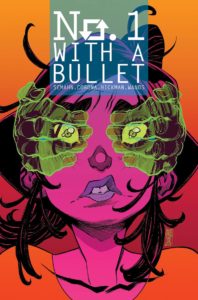 NO 1 WITH A BULLET #1
OH JOY SEX TOY GN VOL 4
OLD MAN LOGAN #30
ONCE & FUTURE QUEEN TP
OPTIMUS PRIME #12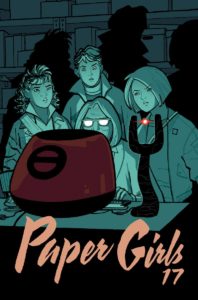 PAPER GIRLS #17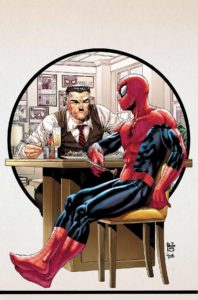 PETER PARKER SPECTACULAR SPIDER-MAN #6
POP LORD OF THE RINGS GANDALF VINYL FIG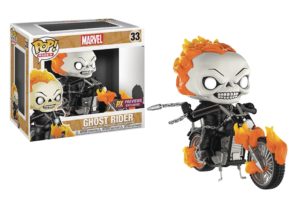 POP RIDES MARVEL CLASSIC GHOST RIDER W/BIKE VINYL FIG
POWER PACK #63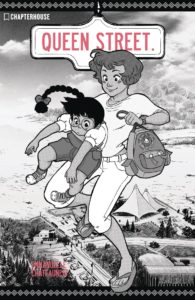 QUEEN STREET GN
Written and illustrated by Emmanuelle Chateauneuf. Meet Aimee, an overworked junior partner at a prestigious law firm in Manila. One storybook romance, four back-to-back flights, and nine years later, in the small of mind but big in spirit town, Sault Ste. Marie, Ontario, Canada, she now lives; still overworked. But as a lower class serial-full-timer and mother to her only child, Melodie, an intelligent and eccentric seven-year-old, whose big personality is only rivalled by her even bigger imagination. Join them and a cast of unlikely characters just as confused and lost, as they stumble blindly for twelve consecutive hours through the beautifully disastrous comedy of Life. Don't miss this breakout semi-autobiographical slice of life tale from Emmanuelle Chateauneuf.
RED SONJA #10
REVOLUTIONARIES TP VOL 2 POWER & GLORY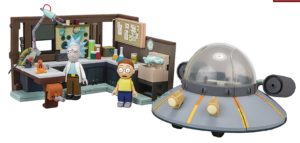 RICK & MORTY SPACESHIP CONSTRUCTION SET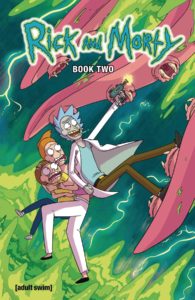 RICK AND MORTY HC BOOK 2
This collection includes issues #11-20 of the comic book series, featuring the superstar talents of Tom Fowler, Kyle Starks, Pamela Ribon, CJ Cannon, Marc Ellbery, and more! Stories like "Ready Player Morty" and "Rick Burn, Dude" will make you laugh, cry, and probably question the morality of humanity. This special hardcover edition also includes a brand-new introduction, over twenty pages of extra art, and an exclusive sound clip of Rick and Morty!
ROBOTECH #4
ROCK CANDY TEEN TITANS GO RAVEN FIG
ROCK CANDY TEEN TITANS GO STARFIRE FIG
ROM #14
SCHIZ GN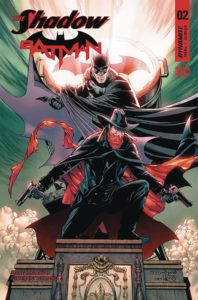 SHADOW BATMAN #2 (OF 6)
SIMPSONS COMICS EXPLOSION #4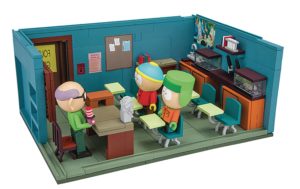 SOUTH PARK CLASSROOM CONSTRUCTION SET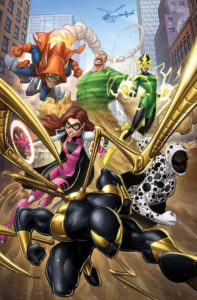 SPIDER-MAN #234
SPOOKHOUSE TP VOL 1
STAR WARS DARTH VADER #7
STEVEN UNIVERSE ORIGINAL GN VOL 2 ANTI GRAVITY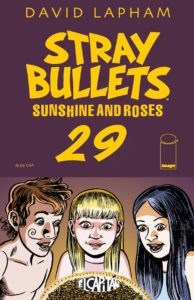 STRAY BULLETS SUNSHINE & ROSES #29
SUPERMAN #34
SUPERMAN ACTION COMICS TP VOL 4 THE NEW WORLD (REBIRTH)
SUPERNATURAL COLOURING BOOK SC MONSTERS DEMONS SPIRITS
TMNT GHOSTBUSTERS II #1
TRENT GN VOL 1 THE DEAD MAN
TWIN PEAKS DOUBLE R DINER TIN TOTE
TWIN PEAKS WELCOME TO TWIN PEAKS TIN TOTE
UBER INVASION #9
USAGI YOJIMBO #163
VALIANT 2017 PULLBOX PREVIEW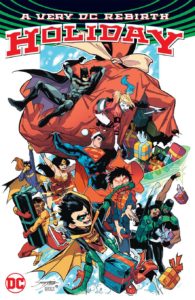 VERY DC UNIVERSE REBIRTH HOLIDAY TP
VOLTRON LEGENDARY DEFENDER VOL 2 #2
VOLTRON LEGENDARY DEFENDER VOL 2 #3
WALKING DEAD #173
WALKING DEAD HILLTOP FACTION 4 INCH PATCH
WALKING DEAD HILLTOP FACTION KEYCHAIN
WALKING DEAD KINGDOM FACTION 4 INCH PATCH
WALKING DEAD KINGDOM FACTION KEYCHAIN
WALKING DEAD SAVIORS FACTION 4 INCH PATCH
WALKING DEAD SAVIORS FACTION KEYCHAIN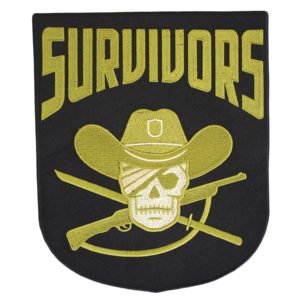 WALKING DEAD SURVIVORS FACTION 4 INCH PATCH
WALKING DEAD SURVIVORS FACTION KEYCHAIN
WILLOWS #1
WITCH BOY GN VOL 1
WITCHER ADULT COLOURING BOOK TP
WORLD OF ARCHIE CHRISTMAS ANNUAL DIGEST #73
restocks and special orders:
2000 AD PACK SEP 2017
ABSOLUTE SANDMAN HC VOL 2
ALL NEW X-FACTOR TP VOL 2 CHANGE OF DECAY
ALL NEW X-FACTOR TP VOL 3 AXIS
BATMAN BLACK & WHITE BATMAN STATUE BY AMANDA CONNER
BATMAN BLACK & WHITE HARLEY QUINN STATUE BY AMANDA CONNER
BATMAN THE DROWNED #1 (METAL)
BATMAN WHITE KNIGHT #1 (OF 8) 2ND PTG
DAREDEVIL TP BORN AGAIN
DAREDEVIL TP MAN WITHOUT FEAR
DOCTOR WHO 12TH YEAR THREE #8
FRAGMENTS OF HORROR HC JUNJI ITO
GRIMM FAIRY TALES 2017 ARMED FORCES APPRECIATION CVR
HELLBOY IN HELL LIBRARY EDITION HC
HOWLING #4
ILLUSTRATORS MAGAZINE #19
MAD MAGAZINE #548
MARVEL HORROR MAGAZINE COLLECTION TP
METALS BATMAN 89 BATMOBILE W/FIG 1/24 VEHICLE
MIGHTY THOR #700
MIRACLEMAN HC BOOK 3 OLYMPUS
MISTER MIRACLE #3 (OF 12)
MAGIC THE GATHERING: IXALAN DECK BUILDERS TOOLKIT
MY LITTLE PONY LEGENDS OF MAGIC TP VOL 1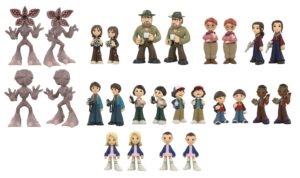 MYSTERY MINIS STRANGER THINGS SERIES 1 12PC MINI-FIGURES
NARUTO 3IN1 TP VOL 4, 5, 6, 7
PINT SIZED HEROES NIGHTMARE BEFORE XMAS 24PC MINI-FIGURES
POCKET POP DISNEY SERIES 1 FIG KEYCHAIN 24PC MINI-FIGURES
POCKET POP THOR RAGNAROK LOKI FIG KEYCHAIN
POP HORROR ANNABELLE VINYL FIGURE
POP HORROR BRIDE OF CHUCKY TIFFANY VINYL FIGURE
POP HORROR CARRIE CARRIE WHITE VINYL FIGURE
POP HORROR PSYCHO NORMAN BATES VINYL FIGURE
POP MYSTERY SCIENCE THEATER 3000 CROW VINYL FIG
POP MYSTERY SCIENCE THEATER 3000 TOM SERVO VINYL FIG
POP SHINING DANNY TORRANCE VINYL FIGURE
POP SMURFS ASTRO SMURF VINYL FIGURE
POP SMURFS BRAINY SMURF VINYL FIGURE
POP SMURFS GARGAMEL WITH AZRAEL VINYL FIGURE
POP SMURFS GNAP SMURF PURPLE VINYL FIGURE
POP SMURFS PAPA SMURF VINYL FIGURE
POP SMURFS SMURFETTE VINYL FIGURE
POP TWIN PEAKS AGENT COOPER VINYL FIG
PROVIDENCE LTD HC ACT 3
PUNISHER PLATOON #2 (OF 6)
ROBOTECH #3
ROM #13
SANDMAN TP VOL 2 THE DOLLS HOUSE
SANDMAN TP VOL 3 DREAM COUNTRY
SEX CRIMINALS TP VOL 3 THREE THE HARD WAY
SHERLOCK FRANKENSTEIN & LEGION OF EVIL #1 (OF 4)
SKIN & EARTH #1 (OF 6) 2ND PTG
SKIN & EARTH #2 (OF 6) 2ND PTG
SPIDER-GWEN #25
SPINNING GN
STAR WARS SCREAMING CITADEL TP
SUPER SONS TP VOL 1 WHEN I GROW UP (REBIRTH)
TMNT AMAZING ADVENTURES TP VOL 1
VELVET TP VOL 3 MAN WHO STOLE THE WORLD
WET MOON GN VOL 6