Archive for the 'Dartmouth' Category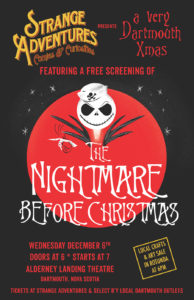 Join us Wednesday, Dec. 6th for a FREE screening of A Nightmare Before Christmas!
Doors open at 6pm and you can meet several local […]
Categories:
Dartmouth
,
Local Artists
---
comics are late this week – arriving Thursday – along with a huge new stock of half-price toys!
Sadly, as we need time and space to sort them, we're CLOSED on Wednesday, Nov. 15th
Our apologies for any inconvenience!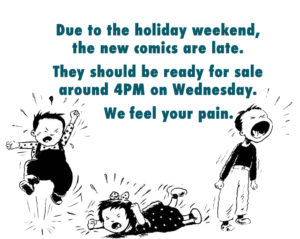 Dartmouth, Store Updates
---
---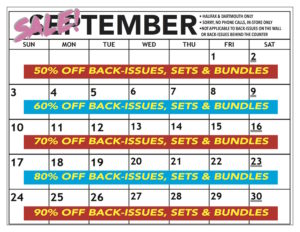 SALEtember is upon us!
The back-issue bin is 60% off including the dollar comics and our comic book sets and bundles!
Each week the discount […]
Categories:
Dartmouth
,
Sales
---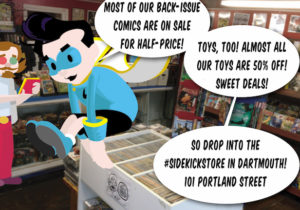 most of our back-issue comic books are on sale 50% off! This includes the #LoonieBin and our comic book sets / bundles!
and lots of new arrivals […]
Categories:
Collections
,
Dartmouth
,
Sales
---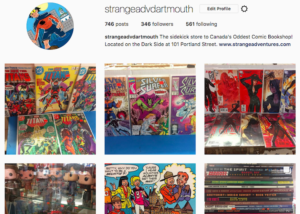 the #SidekickStore is on Instagram –
we post new arrivals on the #FiveBuckBooks
shelf, treasures that are uncovered and recent
acquisitions. If you're so inclined, check out our instagram […]
Categories:
Dartmouth
---
---
---
Here is what writer Scott Snyder had to say in response to our request for a quick pitch on DARK NIGHTS: METAL…
"While investigating a mystery […]
Categories:
Book Info
,
Dartmouth
,
Fredericton
,
Halifax
---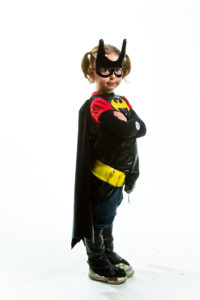 Free Comic Book Day is this Saturday, May 6th!
Starting at 10AM, we'll have hundreds of free comics available!
Drop by and choose up to […]
Categories:
Dartmouth
,
Store Updates
---