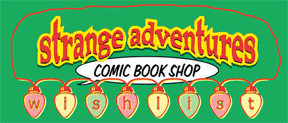 The Strange Adventures Xmas Wishlist is a great way for you
to let Santa know what you're hoping to get for Christmas!
Fill out one of our wishlist cards when you're next at Strange
Adventures or send a note to
shop@strangeadventures.com with your name, contact info,
and list your wishes!
When Santa and his elves drop by to their local Strange Adventures,
they'll know exactly what you want!