here's what is expected at your local
Strange Adventures on Wednesday, August 24th:
2000 AD PACK JUL 2016
8HOUSE #3 KIEM PART ONE
ACCUSED #1 STAPLES
ACTION COMICS #962
ADVENTURE TIME COMICS #2
ALENA TP
ALOHA HAWAIIAN DICK #5 (OF 5)
ANDRE THE GIANT GN CLOSER TO
Read more…
---
HALIFAX
It's DCAF day!
August 14th, 2016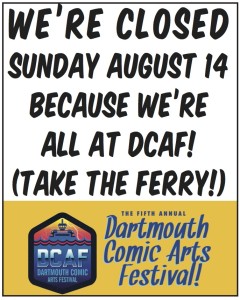 Sunday August 14th is the big day! The 5th annual Dartmouth Comic Arts Festival is a great opportunity to meet and greet dozens of cartoonists and see the variety of styles and genres being created in comics! Hope to see you there!
Both
Read more…
DARTMOUTH
DCAF wrap-up
August 15th, 2016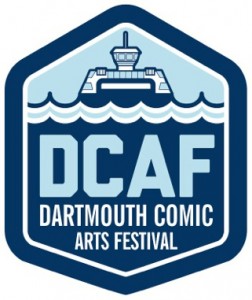 The fifth annual Dartmouth Comic Arts Festival took place yesterday at Alderney Landing in downtown Dartmouth. Thousands of people came through the event to see a huge variety of comic books, prints, graphic novels, toys
Read more…
FREDERICTON
Animaritime 2016 – Day One
July 2nd, 2016
Animaritime is underway in Fredericton at the convention centre and it looks to be off to a great start:
---
Current eBay Auctions
View All Auctions