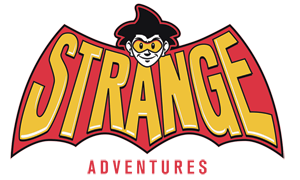 Welcome to Strange Adventures - Canada's oddest and award-winning comic book stores. Now located in Fredericton, Halifax and Dartmouth, Strange Adventures has been bringing you the best in comics since 1992!
here's what is expected at your local
Strange Adventures for Wednesday, April 16th:
1 FOR $1 EMILY AND STRANGERS #1
A PIGGYS TALE #1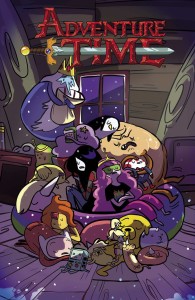 ADVENTURE TIME #27
ADVENTURE TIME SUGARY SHORTS TP VOL 1
ADVENTURES OF SUPERMAN TP VOL 1
ALIVE
Read more…
HALIFAX
Ladies Night in Halifax! Thursday, April 3rd
March 31st, 2014 |
No Comments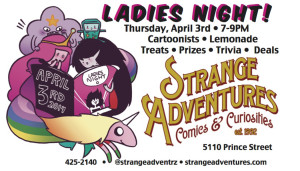 It's Ladies Night in Halifax this Thursday from 7 to 9PM! Gift bags, trivia, Lemonade from the folks at LemonDogs, cartoonists in the house and lots more going on!
For the boys, the folks at PVP
Read more…
DARTMOUTH
new arrivals in Dartmouth
March 31st, 2014 |
No Comments
all kinds of new-to-you toys and books arriving almost daily at the Dartmouth Sidekick store…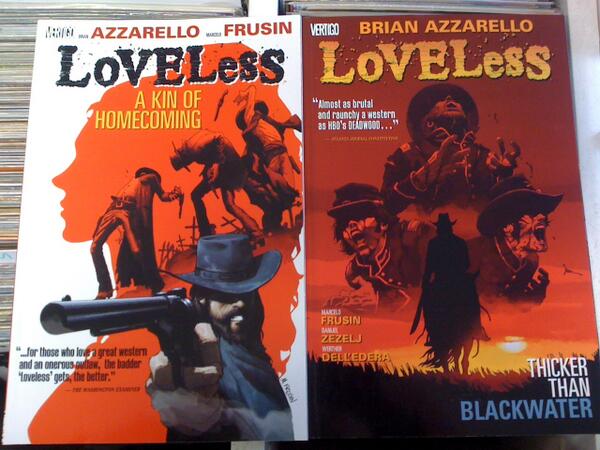 Loveless by Brian Azzarello and various artists – gritty western action for only $5 per book!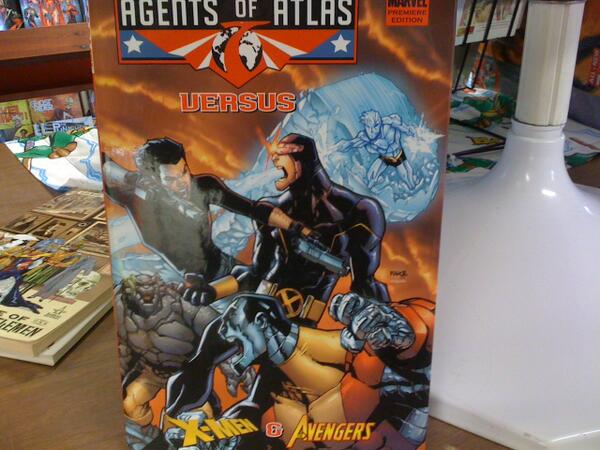 Agents of Atlas versus X-men & Avengers – only
Read more…
FREDERICTON
Kate Leth Adventure Time signing & Ladies Night!
March 14th, 2014 |
No Comments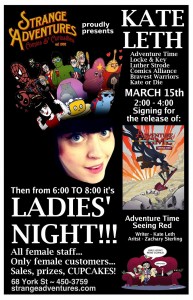 Adventure Time writer Kate Leth will be in Fredericton to sign
copies of her new book,Adventure Time "Seeing Red", at Strange
Adventures from 2 to 4 PM, Saturday, March 15th.
And it doesn't stop there! After a brief respite to make
Read more…