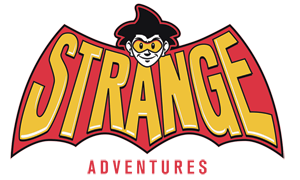 Welcome to Strange Adventures - Canada's oddest and award-winning comic book stores. Now located in Fredericton, Halifax and Dartmouth, Strange Adventures has been bringing you the best in comics since 1992!
the following are expected at your local
Strange Adventures comic shop on Wednesday,
November 26th:
100 GREATEST CONSOLE VIDEO GAMES 1977-1987 HC
2000 AD PACK OCT 2014
2000 AD WINTER SPECIAL 2014
A CHRISTMAS STORY BUTTON ASSORTMENT
ADV TIME BANANA GUARD ACADEMY #5 (OF 6)
ALIENS FIRE AND
Read more…
HALIFAX
Hal-con signings at our exhibitor booth!
November 2nd, 2014 |
No Comments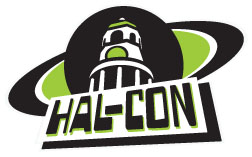 Hal-con is happening next weekend! Friday, Nov. 7th through Sunday, Nov. 9th, will see the city overrun with cosplay, comic books, time lords and more!
Strange Adventures will be set up with a booth at the vendors area with loads of stuff to entice
Read more…
FREDERICTON
Ladies Night and comic book signings!
November 2nd, 2014 |
2 Comments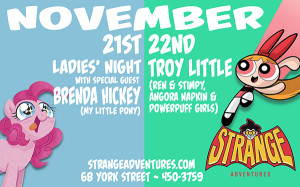 Fredericton will be holding a Ladies Night event on Friday, November 21st from 7 to 9PM with special guest, cartoonist Brenda Hickey! Brenda has worked on the highly successful My Little Pony comic book series as well as other comics. See more of her
Read more…