here's what is expected at your local
Strange Adventures comic book shop for
Wednesday, April 22nd:
2000 AD PACK MAR 2015
ADVENTURE TIME #39
ALICE IN COUNTRY OF CLOVER MARCH HARES REVOLUTION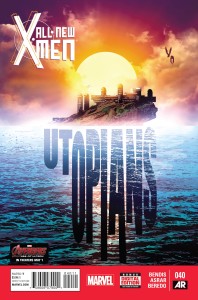 ALL NEW X-MEN #40
ALTER EGO #132

Read more…
---
HALIFAX
Monday updates – buyer will be late today!
April 5th, 2015
Our buyer is in every Monday to look at your comics and collectables that you have for sale, but will be in this Monday, April 6th, after 1PM. Sorry for any inconvenience.
DARTMOUTH
Easter hours
April 2nd, 2015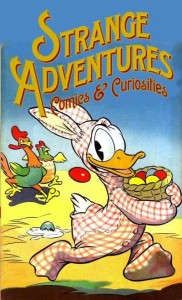 Our hours for Easter weekend in Fredericton are as follows:
Good Friday – Noon to 4PM
Saturday – 10AM to 5PM
Sunday – CLOSED
Monday – 10AM to 6PM
Halifax is open Friday from Noon to 4PM
Saturday – 10AM
Read more…
FREDERICTON
Store hours update
April 6th, 2015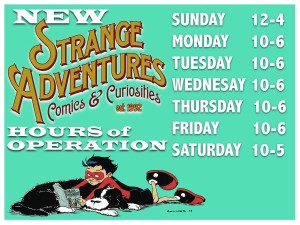 we've updated our store hours in Fredericton – now open Mondays through Friday 10AM to 6PM, Saturdays 10AM to 5PM and Sundays Noon to 4PM! Come visit sometime!
---
Current eBay Auctions
View All Auctions