The Strange Adventures Bug is no more. Permit me a few remembrances of a fine automobile…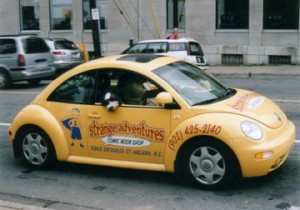 Balou, my old sheepdog and shop mascot, loved riding in the bug.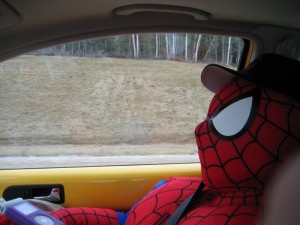 The bug took me to and from work, to Montreal, back and forth to Fredericton, to Maine, New Hampshire, Vermont and all over the maritimes. Here it's seen with my co-pilot, a stuffed spider-man, on the way to the Fredericton shop.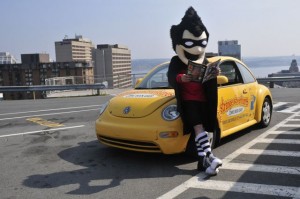 Since 2000, the bug was seen all over the city promoting Strange Adventures and hopefully encouraging people to check out the wonderful world of comics! Supersnipe is pictured here with the bug on Citadel Hill.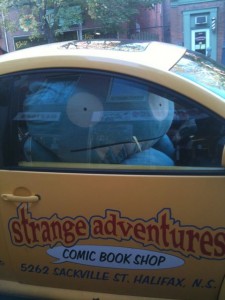 The six foot Icebat plush doll takes a drive from Fredericton to Halifax. It loved the big windows.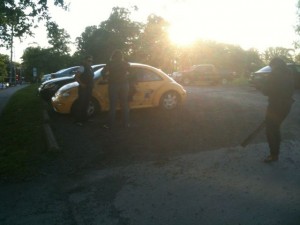 The bug was even used as a backdrop for a model photo shoot. Handsome devil, that bug!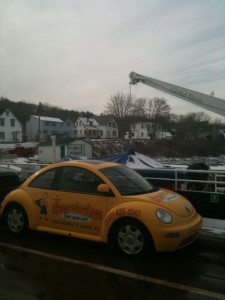 It wasn't afraid of water, seen here on the LaHave Ferry.
The bug had a full life, once having a seized engine, but was able to recover and get back on its wheels and had many years left. It was going to get some cosmetic surgery this fall and a new paint job, but that won't happen now.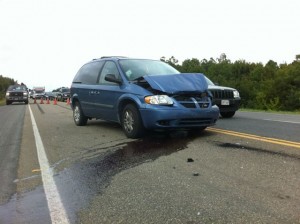 In September, a pal was using the bug to get home to Cape Breton for the weekend and while stopped at a construction zone, the above vehicle neglected to stop and slammed into the bug.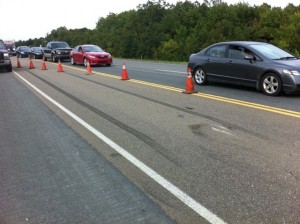 Here you can see the skid marks of the minivan.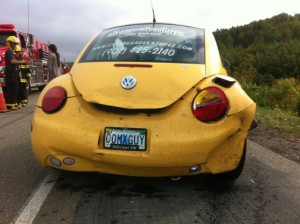 The bug was hit hard and the frame was twisted badly.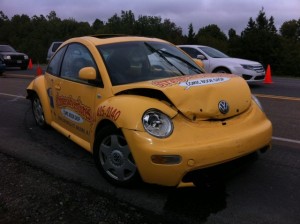 The front end of the bug was pushed into the vehicle ahead of it crumpling the hood and damaging the rear end of the other vehicle.
Luckily, there were no apparent serious injuries to the folks in the bug. Badly shaken up and many aches and pains. The bug, however, was mortally wounded.

We had some great times and I was hoping for many more.
Goodbye old friend.