The 2nd printing of the SEX CRIMINALS #11 sketch edition is out this week, and there's a contest to go along with it!
Image Comics is pleased to announce that—in celebration of the second printing of SEX CRIMINALS #11 by writer Matt Fraction and artist Chip Zdarsky—fans will have an opportunity to enter into a very special contest on Twitter and Instagram.
The SEX CRIMINALS #11, second printing cover will be available on Wednesday, September 16th and feature a faceless Fraction and Zdarsky, allowing readers to fill in with their own sketches and post photos of their finished creations on Twitter and Instagram using the hashtag, #BrimperSketch.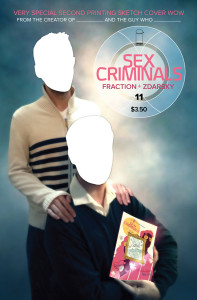 Fraction and Zdarsky will then sift through the photos submitted with the #BrimperSketch hashtag and choose one winner (U.S. & Canada only). The winner will be announced on the Image Comics website the following week, Wednesday, September 23rd.
The lucky winning participant will receive:
one (1) signed THE WICKED & THE DIVINE #2 Zdarsky variant where Zdarsky himself has eaten the portion of the cover with McKelvie's face in order to gain his youthful powers.
one (1) signed copy of JUST THE TIPS where Zdarsky has drawn a penis tip on every single page.
one (1) copy of BIG HARD SEX CRIMINALS signed by Fraction and with a personalized, handwritten erotic fan fiction story incorporating Chip Zdarsky and a character of the winner's choosing.
Check the Image Comics site for more info.